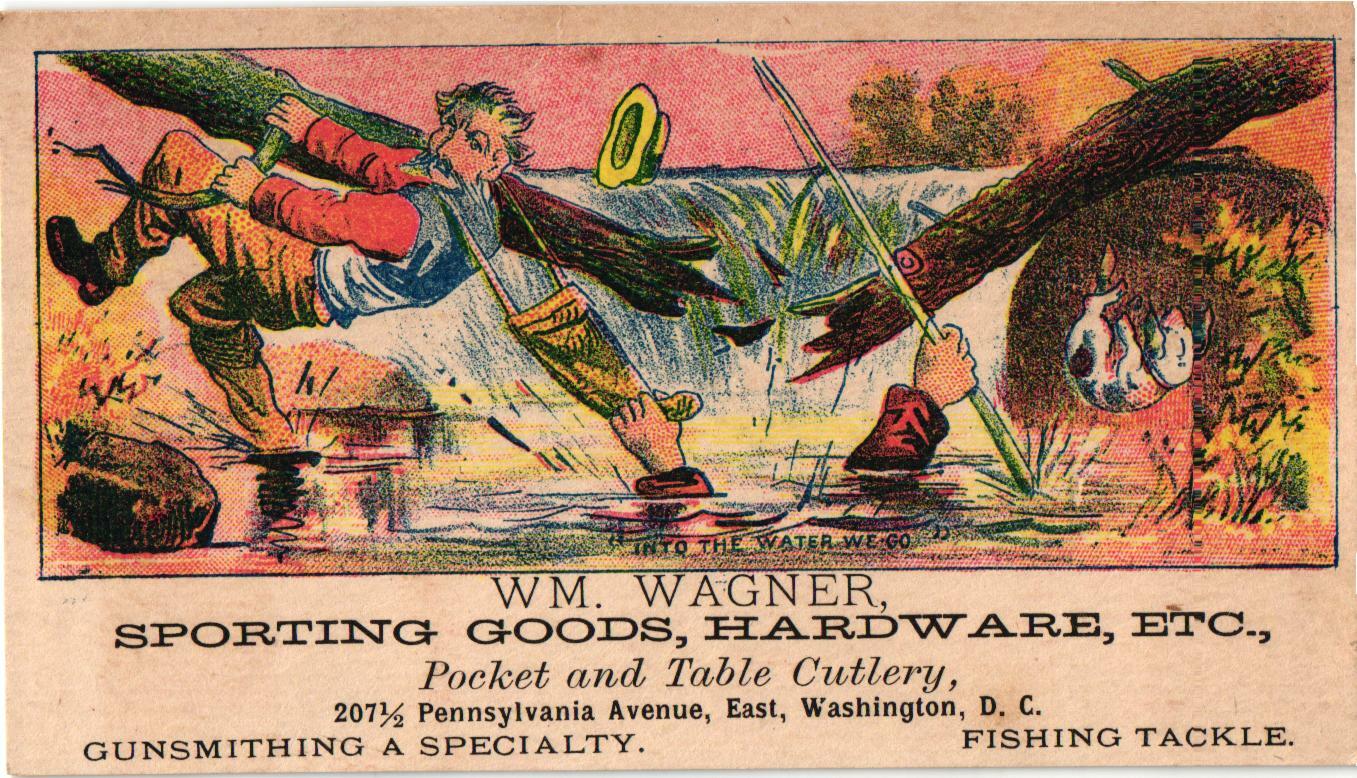 Type of auction :

Buy it Now

Condition :

Used

Category :

Collectibles:Advertising:Merchandise & Memorabilia:Victorian Trade Cards:Other Victorian Trade Cards

Time left :

27 days, 9 hours, 20 minutes

Ships to :

United States

Return policy :

Yes (14 Days)

Seller :

fla_currency_coins (100.0%)

Stock :

1 Available (0 sold)

Viewed :

8 times
Product Details
Type of Advertising :
Victorian Avertising Card
What the Seller Says
A Victorian Advertising Card - WM. Wagner - Sporting Goods & Hardware 2071/2 Pennsylvania Avenue, East, Washington DC(1880s) Obverse: Fishermen Getting Pulled Into The Water Reverse: Blank Color: Multi-Colored Size: 2 1/2" x 4 1/2" Condition is USED (EXTRA FINE) "Pea Sized" Paper Pull On ReversePlease review pictures for more details, or for any defects if it applies to the item. U. S. Shipping Only. This Item is 7% Taxable for Florida Sales We use quality shipping products to help insure the safe delivery of your purchase. To help keep your shipping costs down we also offer combined shipping discounts. If you pay automatically through PayPal, you may not receive our special shipping discounts. If that happens we will be happy to refund any additional shipping costs. We post Positive Feedback for all of our valued Ebay customers as soon as we receive your payment. We strive to do our best to ship your itemsout to you the same day your payment is received, or by the very next business day. We ask all our valued Ebay customers, to please leave us theappropriate feedback when you receive your purchase, or receive payment from us. If there are any kind of issues concerning any items that wesend you, we want to hear back from you as soon as possible, before you leave Feedback for us. Please contact us via EBay's messaging system. We want a pleasurable experience for all Ebayers.THANK YOUVictorian Advertising Trade Cards While Advertising Cards had been used in England since the 1700's, they became very popular in the United States, following the Civil War, due to advent of new color lithography in the United States, during the Victorian era. From about 1870 to 1900, Advertising Cards were widely collected, and these brightly illustrated cards were often pasted into scrap books. Tradesmen and merchants could pick and choose the pictures they wanted to advertise their goods, products and services, and often chose illustrations that were pertinent to their area of the country. Today, these wonderful Victorian Advertising Cards give us all an opportunity to look back in time, and see what was important to the folks and businesses of days gone by. Whether you collect your home town material, or choose from a myriad of subjects such as Sewing, Coffee, Stoves, Tobacco, Household Goods, Farm Equipment, Restaurants, Boots, Colognes, Cures, Cleaning, Black Americana, Clothes, Food, Bicycles, and a whole lot more. Really neat Victorian Advertising Cards are available from a just few dollars each, to several thousand dollars for some of the really rare ones. A very enjoyable item worth collecting.